Catching your onward train
from Cardiff Central, data sampled at 07/12/2019 11:10:20
Please do not leave luggage unattended. Unattended luggage may be removed or destroyed by the security services. If you see anything suspicious please inform a member of staff or contact the police.
Schedule
expected
platform
coaches
no. stops &nbsp
Operated by
train destination
1121
On time
2
*
25
Transport for Wales
Holyhead
1110
1111
8
*
7
Transport for Wales
Barry Island
1111
On time
6
*
12
Transport for Wales
Aberdare
1114
4A
*
8
Transport for Wales
Swansea
1116
On time
8
*
2
Transport for Wales
Penarth
1118
On time
4A
*
9
Transport for Wales
Maesteg
1116
On time
6
*
15
Transport for Wales
Rhymney
1121
On time
6
*
6
Transport for Wales
Coryton
1126
On time
1
*
4
GWR service
London Paddington
1125
On time
8
*
7
Transport for Wales
Barry Island
1126
On time
6
*
13
Transport for Wales
Merthyr Tydfil
1131
On time
6
*
10
Transport for Wales
Bargoed
1131
On time
8
*
2
Transport for Wales
Penarth
1130
On time
2
*
15
GWR service
Portsmouth Harbour
1134
On time
0
*
7
Transport for Wales
Ebbw Vale
1136
On time
7
*
4
Transport for Wales
Radyr
1135
On time
6
*
16
Transport for Wales
Treherbert
1141
On time
6
*
12
Transport for Wales
Aberdare
1141
On time
8
*
9
Transport for Wales
Bridgend
---
About our onward trains page
Trains from Melksham run though the day and into the early evening to Chippenham and Swindon, and to Trowbridge and Westbury. Where you can change for a wide variety of other destinations. But which platform will your connection be leaving from, what destination do you need to look out for, and will your train be running on time?

This page provides you with departures from Melksham, and also connections at some of the major interchange stations that you may find yourself at - arrive at Bristol Temple Meads and look for your onward train to Lawrence Hill, for examples - is the next Bristol Parkway train calling there, or do you need to find a train for Severn Beach or perhaps for Avonmouth? And which platform will it be leaving from ...?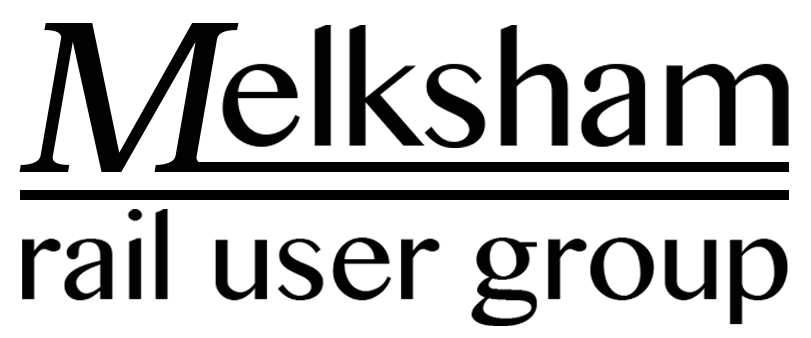 New and Upcoming ....
Timetables changing shortly
Bus times [First D3] (from 10.11.19) - [here]
Current train times (to 14.12.19) - [here]
Future train times (from 15.12.19) - [here]

Fare changes 2nd Jan 2020 - early data [here]

MRUG public meeting, "Fares Special" 20th January 2020 - see [here]

15th December 2019 - Santa will be on the train from Melksham just after 15:00 (3 p.m.) to Swindon and back. Further details [here]

Report on reduction of station dwell time – three specific ideas for Melksham proposed by the Melksham Rail User Group in reply to request for suggestions from Mark Hopwood on 18th July 2019 for input by 24th July 2019 - [[here]]

Report on summer 2019 promotion - carnivals, and fetes - see [[here]]. Thank you to everyone who's helped - and enjoy your summer trips. Pictures from Imber on 17th August - here

Tribute to class 153 trains - the single carriages which provided the vital stepping stone from no useful service to what we now have, 2013-2018 on the line, now retiring from GWR

New "Great West Way Discover" tickets launched - travel as much as you like on selected routes, two of the tickets include Melksham - great for a Staycation or for visitors to the UK who are staying with you for a while. There are now 10 different rangers and rovers that include Melksham - see [here] for a list including maps and prices.


---
---
---