Catching your onward train
from Cardiff Central, data sampled at 23/04/2019 20:59:09
Please do not leave luggage unattended. Unattended luggage may be removed or destroyed by the security services. If you see anything suspicious please inform a member of staff or contact the police.
Schedule
expected
platform
coaches
no. stops &nbsp
Operated by
train destination
2106
On time
8
*
2
Transport for Wales
Penarth
2101
On time
6
*
8
Transport for Wales
Ystrad Mynach
2100
On time
1
*
4
GWR service
Bristol Temple Meads
2110
On time
8
*
7
Transport for Wales
Barry Island
2105
On time
1
*
4
CrossCountry
Birmingham New Street
2106
On time
6
*
16
Transport for Wales
Treherbert
2107
On time
7
*
16
Transport for Wales
Milford Haven
2112
On time
1
*
6
Transport for Wales
Cheltenham Spa
2110
On time
3A
*
9
Transport for Wales
Maesteg
2117
On time
2
*
16
Transport for Wales
Chester
2124
On time
3
*
3
GWR service
Swansea
2126
On time
2
*
4
GWR service
London Paddington
2127
On time
6
*
13
Transport for Wales
Merthyr Tydfil
2130
On time
1
*
3
GWR service
Bristol Temple Meads
2131
On time
6
*
12
Transport for Wales
Bargoed
2131
On time
8
*
2
Transport for Wales
Penarth
2134
2137
0
*
7
Transport for Wales
Ebbw Vale
2136
On time
7
*
4
Transport for Wales
Radyr
---
About our onward trains page
Trains from Melksham run though the day and into the early evening to Chippenham and Swindon, and to Trowbridge and Westbury. Where you can change for a wide variety of other destinations. But which platform will your connection be leaving from, what destination do you need to look out for, and will your train be running on time?

This page provides you with departures from Melksham, and also connections at some of the major interchange stations that you may find yourself at - arrive at Bristol Temple Meads and look for your onward train to Lawrence Hill, for examples - is the next Bristol Parkway train calling there, or do you need to find a train for Severn Beach or perhaps for Avonmouth? And which platform will it be leaving from ...?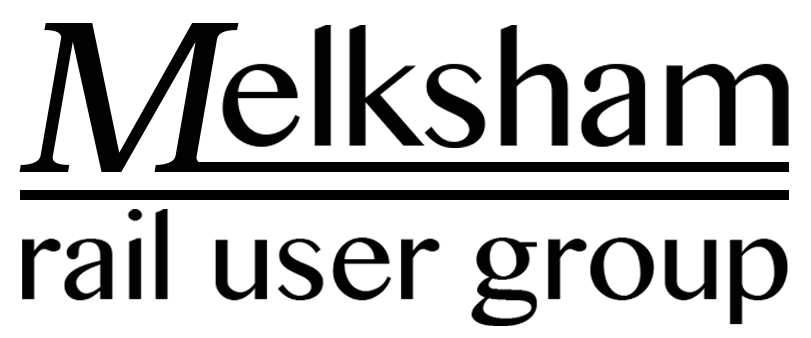 News and Upcoming ....
Saturday April 13th - Join the Great British Spring Clean at Melksham Station. Details at event page

Wednesday 22nd May - next meeting of Melksham Rail User Group. 19:30, Town Hall, all welcome - see [here]. This will be our AGM but other issues will be covered as normal. Please come along and make your inputs heard

Tribute to class 153 trains - the single carriages which provided the vital stepping stone from no useful service to what we now have, 2013-2018 on the line, now retiring from GWR

New "Great West Way Discover" tickets launched - travel as much as you like on selected routes, two of the tickets include Melksham - great for a Staycation or for visitors to the UK who are staying with you for a while. There are now 10 different rangers and rovers that include Melksham - see [here] for a list including maps and prices.

Did you know John Money - our stalwart supporter and treasurer for many years? Care to join us on 28th April on a trip to his beloved Seaton Tramway where a memorial plaque for the work he did for them and us will be dedicated on his favourite car (No. 8), and we'll be scattering his ashes before heading home.
---
News on the line ...
Engineering works (and meeting) calendar - click on image for larger scale / detail
---
---
Forum latest new topics
* It's so much faster skipping stations.

* Community Rail in Wales - status and plans

* [historic] - fatality at Melksham - call for footbridge

* bus question

* Controlled news release from Department for Transport - knew but did not tell

* Overrunning engineering - Easter Sunday 21st April 2019

* East Somerset Junction