Santa on the train from Melksham
Sunday 15th December 2019
Tickets on sale at Melksham TIC
- £10.00 adults, £5 children
On Sunday 15th December 2019, Santa will be on the train that leaves Melksham just after 3 p.m., handing out presents to all the children on the ride of just over an hour out and back to Swindon. A minced pie and a soft drink will be available for everyone, with our chair making a gift of a glass of wine in place of the soft drink for any adults who wish to take advantage of his generosity.

This trip is facilitated by Great Western Railway, who generously help with the travel and allow the group to provide the whole trip at just £10 per adult and £5 per child. Places in the carriage that Santa travels in (on a regular service train) are limited, and prebooking (at the TIC in Church Street) is vital so that Santa can ensure he brings the right presents along with him, and has time to see everyone

If you're driving to Melksham Station, there's plenty of car parking available. The station is situated just off the A365 Bath Road - turn right into Station Approach just after the A365 forks off the A350 Chippenham Road.

If you're walking from the Town Centre, cross the Town Bridge and walk straight ahead along the old Bath Road (now a cul de sac). You'll come to a subway under the main bypass road (A350 to Chippenham) and that will bring you out at the top of Station Approach - walk down there to the station which you'll find at the bottom of the slope on your left. There's a pathway painted on the road to help you find the way. Total walking time from the Town Bridge - about 10 minutes.

Trains run every day (except Christmas Day and Boxing Day) from Melksham Station, first train at 06:36 and last train at 20:32 (weekdays - times vary at the weekend) to Chippenham and Swindon, and to Trowbridge and Westbury. See the right hand or lower bar on this page for a link to current timetables and [here] for a link to fare information. Train times change from 16th December - with the first train being even earlier and the final train a little later.

Melksham Rail User Group (a "station friends group" for 25 years) uses this trip to spread Christmas cheer, and usually makes a small profit which we use to provide further publicity for Melksham's station ant its train service at fetes and other events though the year. If you would like to join MRUG (new members always welcome, no fees as we welcome your input and help), please email or come along to one of our meetings which are advertised in the right hand column of this web page (below on a mobile device).
---
Information and contact for current train times and fares at Great Western Railway - our train operator
Line / lineside emergency - call Network Rail on 03457 11 41 41
Reporting an incident such as vandalism - call British Transport Police on 0800 40 50 40 (Emergency - call 999)
Strategic line and service development via TransWilts Community Rail Partnership - our CRP

Officers of Melksham Rail User Group
Chair - Peter Blackburn
Vice-Chair - Graham Ellis
Secretary - John Hamley
Treasurer - Judith Gradwell
Email -
info@mrug.org.uk
Discussion and detail - on the
Coffee Shop forum
(contact grahame there)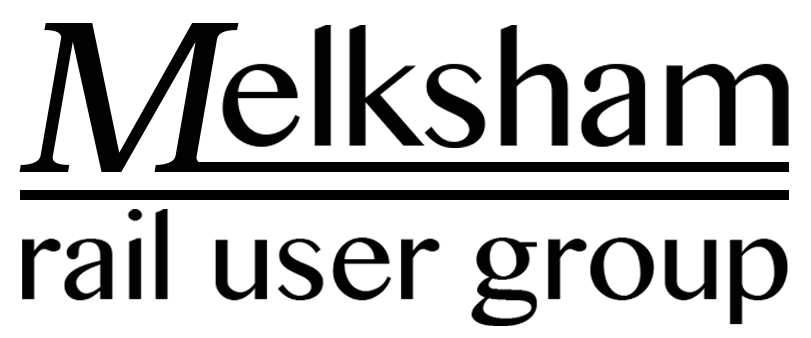 News and Upcoming ....
New: • Emergency contacts • Bus updates • Resources

Next MRUG public meeting
18th March 2020 - see [here]

Current timetables - Winter to Spring 2020
Train times
[here]
Most bus times
Faresaver
D3 Bus times to 4.4.20 -
[here]
Other bus times
Swindon's Bus Co.
Other bus times
Town Bus
Long distance coach
National Express
No changes expected in February or March
Passenger number predictions
How many passengers will be using Melksham Station in 2026 and in 2036? Neighbourhood plan input. See
((here))
for the web page or
((here))
for a printable version. Written 24.2.2020
Report on 2019 and plans for 2020
- Pick up a copy of our report at area board, council and MRUG meetings in January or email to ask for a printed copy. Also availabe for download
here
---
---
---
Forum latest new topics
* Melksham to London for free - but taking how long?

* Somerset Transport Campaigners - help needed

* Crystal ball - will coronavirus effect our travel (public and private)?

* Secret Reading Timings - Why?

* Prediction of passenger numbers - train journeys to and from Melksham Station

* Transport focus wants bad road signs

* Night Riviera