Catching your onward train
from Swindon, data sampled at 22/02/2019 06:56:37
Schedule
expected
platform
coaches
no. stops &nbsp
Operated by
train destination
0658
On time
3
10
1
GWR
London Paddington
0702
On time
1
9
2
GWR
London Paddington
0715
On time
3
9
1
GWR
London Paddington
0729
On time
3
10
2
GWR
London Paddington
0730
On time
4
9
3
GWR
Bristol Temple Meads
0736
On time
1
9
2
GWR
London Paddington
0739
On time
4
10
6
GWR
Swansea
0742
On time
3
10
2
GWR
London Paddington
0750
On time
2
3
4
GWR
Cheltenham Spa
0800
On time
3
9
0
GWR
London Paddington
0802
On time
4
10
3
GWR
Weston-super-Mare
0812
On time
3
10
2
GWR
London Paddington
0814
On time
4
10
2
GWR
Cardiff Central
0824
On time
4
10
2
GWR
Bristol Temple Meads
0830
On time
3
10
1
GWR
London Paddington
0836
On time
1
9
2
GWR
London Paddington
0836
On time
3
9
4
GWR
Cheltenham Spa
0840
On time
4
10
6
GWR
Swansea
0841
On time
1
8
2
GWR
London Paddington
0853
On time
2
3
3
GWR
Westbury
0859
On time
3
9
1
GWR
London Paddington
0901
On time
4
10
2
GWR
Bristol Temple Meads
---
About our onward trains page
Trains from Melksham run though the day and into the early evening to Chippenham and Swindon, and to Trowbridge and Westbury. Where you can change for a wide variety of other destinations. But which platform will your connection be leaving from, what destination do you need to look out for, and will your train be running on time?

This page provides you with departures from Melksham, and also connections at some of the major interchange stations that you may find yourself at - arrive at Bristol Temple Meads and look for your onward train to Lawrence Hill, for examples - is the next Bristol Parkway train calling there, or do you need to find a train for Severn Beach or perhaps for Avonmouth? And which platform will it be leaving from ...?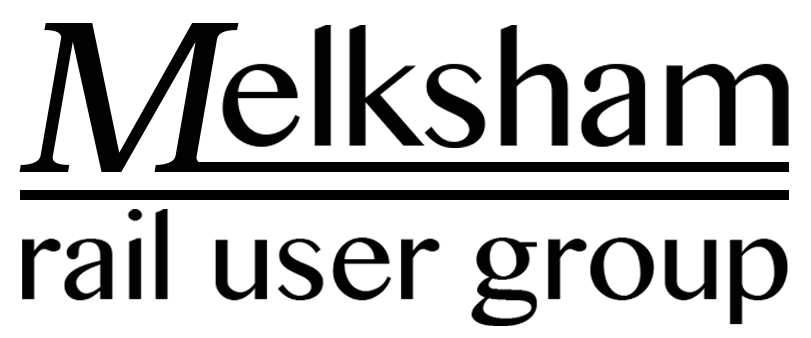 News and Upcoming ....
Direct trains to Bath? - Unlikely in the near future - see [here]. But there are up to 4 buses an hour, and 18 opportunities by train with a change at Chippenham or Trowbridge. See [here] for fare details to Bath and Bristol.

New "Great West Way Discover" tickets launched - travel as much as you like on selected routes, two of the tickets include Melksham - great for a Staycation or for visitors to the UK who are staying with you for a while. There are now 10 different rangers and rovers that include Melksham - see [here] for a list including maps and prices

Wednesday 20th March - next meeting of Melksham Rail User Group. 19:30, Town Hall, all welcome
---
News on the line ...
Engineering works (and meeting) calendar - click on image for larger scale / detail
---
---